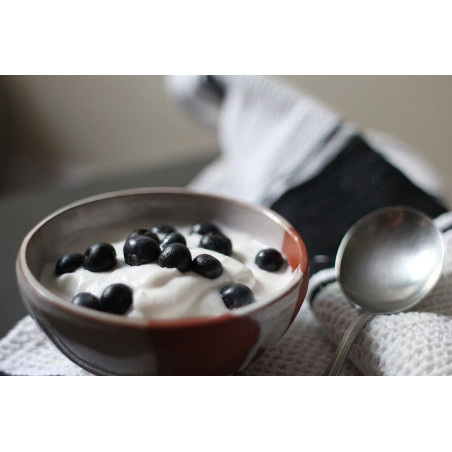  
NaturalFerm Probiotic Youghurt Culture with Bifidus
NaturalFerm® Bifidus joghurt starter culture for 1-2 L of milk with ultra quantity of (10 billion CFU) Bifidus (BB-12) and Lactobacilus acidophilus (LA-5) bacteria.
Making yogurt at home.
Freeze-dried culture, high quality.
For making 1 liter of soft, natural, living yogurt
Heat the milk to 80-85 ° C and then cool it back to 42 ° C (heat treatment and crashing of whey protein)
Remove the culture from the refrigerator and warm up it a bit in about 10 minutes, mix it with half a cup of lukewarm milk, then mix it with the rest of your milk. Keep the milk at 40 ° C for approx. 2-5 hours.
Incubating can be done in a yoghurt making machine, or with heat insulation.
After 2-5 hours, put the finished yogurt in the refrigerator and let it rest in the cold for a few more hours.
In the fridge, our yogurt stays for two to three weeks.